Timing Chain Systems

Powering advances in engine performance
Tsubaki Automotive supplies a range of timing chain drive systems to meet the needs of next-generation high-performance engines and environmentally friendly engines.
With an impressive track record in the design, development, and production of automotive timing chain systems Tsubaki Automotive tirelessly pursues technological innovation. In response to the recent shift towards small cars Tsubaki products are now more compact.
Timing chains
Timing drive systems power engine camshafts, and are generally either chain drive or belt drive systems. The shift from belts to chains has been accelerating in recent years with increased demands for higher performance and more compact engines.
Chain drive systems employ bush, roller or silent chains, each of the chain types having different performance characteristics in terms of durability, noise, and compactness.
Tsubaki Automotive provides timing drive systems to meet the needs of all types of engines.
Bush & Roller Chains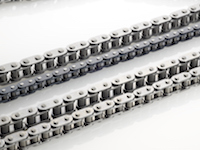 Tsubaki Automotive bush chains provide superior strength and durability and are therefore primarily used in diesel engines, which are characterised by intense changes in load and harsh engine oil conditions. In recent years, their use is growing increasingly common in eco-friendly clean diesel engines.
Driving camshafts and enabling precise valve timing, roller chains play a central role in timing chain drive systems, which are indispensable components of engines. Tsubaki's roller chains combine all of the performance characteristics that automakers demand, including strength, durability, low noise, and lightness.
Silent Chains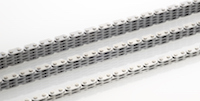 Tsubaki's silent chains are the fruit of efforts to further lower noise while maintaining roller chain characteristics. Also, Tsubaki has realised even more compact timing chain drive systems by introducing an ultra-small, 6.35mm-pitch silent chain.
Timing drive system parts
Sprockets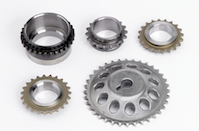 To ensure the accurate transfer of rotary crankshaft motion to the camshafts, Tsubaki Automotive produces sprockets that are compatible with all types of chain. This includes silent chains - a process once regarded as problematic. What's more, Tsubaki Automotive has made timing chain drive systems even quieter by improving the shape of the sprocket teeth.
Tensioners
Tensioners make a significant contribution to noise reduction by counteracting chain vibration and elongation in all operational conditions. Tsubaki Automotive's tensioners deliver the low noise and reliability that automakers need by combining oil hydraulic and mechanical technologies to suit each engine's specifications. Moreover, these tensioners are specially designed to mitigate excessive chain tension.
Levers and guides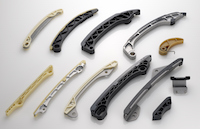 Levers and guides perform a vital role in mitigating chain vibration and ensuring accurate valve timing. Tsubaki Automotive breakthroughs in materials and moulding technologies are allowing us to manufacture lighter, lower-friction levers and guides.