Jobs
Employees are at the centre of the Tsubaki Automotive business. The company recognises that cultivation and strengthening of human resources is paramount to the enhancement of sustainable growth capacity as is the invigoration of the organisation. Tsubaki Automotive remains committed to developing safe and comfortable workspace environment in which employees can shine.
Working at Tsubaki Automotive Czech Republic
Tsubaki Automotive Czech Republic was established in July 2015. In September 2017, production in new plant has officially started. Tsubaki Automotive's new manufacturing plant is equipped with a high-tech production technology, becoming one of the most modern and vibrant working places in the region.
There are still several positions open in Tsubaki Automotive and we are looking for new, forward-looking staff to join our team of operators at production lines and quality inspection.
If you would like to become a part of our team, please send your CV to info@tsubaki.cz
More about Tsubaki's employee policy
Tsubaki Automotive guarantees equal employment opportunities and strives to retain a diverse range of employees regardless of nationality or gender. In addition, by shaping a personnel system and corporate culture that support employees in innovation and taking on new challenges, the company promotes a vibrant and comfortable workplace.
Tsubaki Automotive strives to create a system that provides employees with a real sense of job satisfaction, based on fairness and transparency. To raise individual motivation, we employ mechanisms such as a role-based qualification and wage system, performance-based bonuses that reflect corporate performance to a higher degree, and absolute evaluations.
Ongoing strengthening of manufacturing capabilities and passing on technical skills and expertise to young engineers
Tsubaki Automotive are safeguarding the future business by making sure we pass our superb technical skills and knowledge to the next generation of young engineers.
Strengthening and cultivation of human resources compatible with globalisation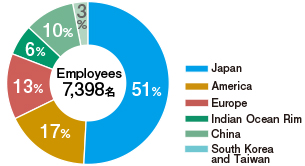 In the past few years, the number of Group's employees positioned overseas increased greatly. In 2015, half of 7,398 employees were based at overseas subsidiaries. The cultivation and strengthening of human recourses compatibility with globalisation has a great importance at Tsubaki. For this reason, Tsubaki Automotive has introduced global trainee system, allowing young employees to be dispatched to overseas subsidiaries for training, but also to invite employees from overseas to undergo training in Japan.
Improvement of employee motivation
Tsubaki Automotive aims to transmit the unique manufacturing DNA throughout the organisation and cultivate human resources capable of creating innovative, globally minded ideas. Tsubaki Automotive conducts various education and training programs targeting a wide range of employees, from young employees to managers.
Safety Measures and manufacturing sites
Throughout the Tsubaki Group, safety is the highest priority. Therefore, working to prevent work-related accidents is the company's continued goal.