Groundbreaking Ceremony
Official start of the construction work on the Tsubaki Automotive's new manufacturing plant
Kolín, Czech Republic: Eastern and Western cultures were united in a groundbreaking ceremony held last week for the Tsubaki Automotive's new production plant in Industrial Zone Kolín-Ovčáry, Czech Republic. 19 guests, including delegates from the Japanese Tsubaki Group, government representatives from the city of Kolín and special guests from Takenaka Construction Company, attended the celebration.
On Tuesday 17th May 2016 Tsubakimoto Chain Co., the world's premiere manufacturer of power transmission products, industrial chains, automotive parts and material handling systems, marked the official start of the construction work of its new automotive manufacturing plant. Tsubaki Automotive Czech Republic s.r.o. was established to meet growing demands of the automotive industry. From November 2017, the company will be manufacturing timing chain drive systems for leading European carmakers.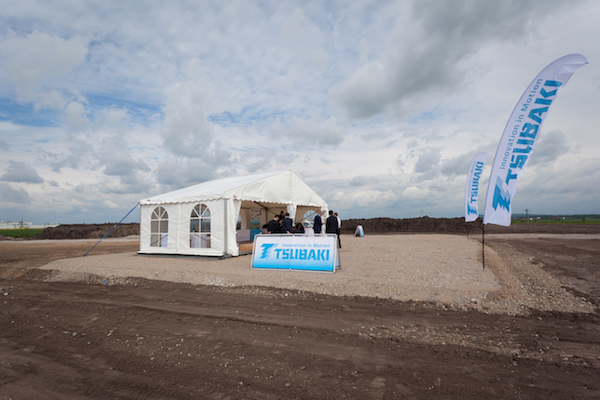 "Our new manufacturing plant will allow us to serve European customers from a local site. Tsubaki Automotive Czech Republic s.r.o. will be a place, where Western location meets Eastern philosophy and the finest Japanese technology.", said Mr. Bart Mellink, Managing Director of Tsubakimoto UK and Director of Tsubaki Automotive Czech Republic, in his welcoming speech.
The celebration began with Jichinsai, the traditional Japanese groundbreaking ceremony. The aim of this ancient ritual is to appease the God of the Earth and pray for the safety of the construction before new work begins. The ceremony continued with a symbolic first cut of a spade, a well-known Western tradition and was concluded with a toast to the safe construction and prosperity of the new plant.
"Our vision for this new plant can be summarized in a few words: efficient, economical, flexible and happy place to work." said Mr Masaki Miyaji, Executive Officer Tsubakimoto Chain Co, Japan, Head of Production for Automotive Parts.
Tsubaki Automotive will invest 400 million CZK in the new development, creating 80 jobs by 2019. In his speech, Mr. Vít Rakušan, the Mayor of the city of Kolín, praised the quality of the new partnership: "The cooperation with Tsubaki Group, the investor, Takenaka, the construction company and the city of Kolín has been very good. We are very excited about the company's decision to invest 400 million CZK our region. This exciting venture will create new employment opportunities, but will also result in great economic benefits for our community."
– 2016 June 29